There are several radio frequency treatments (RF) available for skin tightening, and the "best" option can vary based on factors such as your skin type, concerns, and the specific technology available at a given time.
A Quick Background on Sagging Skin and Available Treatments
Sagging skin is one of the most obvious signs of aging, and it doesn't just occur on your face and neck—it can happen anywhere on the body. It used to be that the only solution for tightening sagging skin was surgery. But surgery is EXPENSIVE, and sometimes not worth it. So, what if we told you, you could achieve tighter, more youthful skin without surgery, would you be interested in learning more?
Enter Radio Frequency Treatments
Radio frequency energy for tightening skin is the latest trend in medical aesthetic treatments because it can improve sagging skin on your face, neck, and all over the body, all without surgery! These treatments utilize RF energy to heat the deeper layers of the skin, which stimulates collagen production and leads to improved skin elasticity and tightness. Radio frequency therapy can be used on many areas of the body, including the face, neck, arms, abdomen, buttocks, and legs, to tighten the skin. Patients will be able to see some skin tightening effects of the treatment immediately with improvements continuing over time.
Instead of invasive procedures, treatment involves the use of radio frequency energy. When your skin is exposed to heat in the form of radio frequency (RF) energy, it speeds up your body's own natural production of collagen. At Lavish Wellness & Aesthetics, we offer radio frequency treatments for skin tightening designed to target specific skin concerns.
Here are some of the 5 popular RF treatments for skin tightening:
1. Thermage
Thermage uses a monopolar RF device to heat the deeper layers of the skin and stimulate collagen production. It's often used to tighten skin on the face, neck, and body. Thermage treatments are generally well-tolerated and can provide gradual results over several months. Like other RF treatments, Thermage works by emitting radio frequency energy waves to heat the dermal layer of skin to tighten existing tissue and trigger the production of new collagen for smoother, tighter skin. Patients will see an immediate result as the converted heat in the dermis causes the fibrous collagen to contract, leading to an immediate tightening of the skin.
2. Morpheus8
Created by InMode, Morpheus8 is the award winning fractional skin treatment that stimulates collagen production of the underlying layers of the dermis.
Morpheus8 is an important addition to the list of radiofrequency (RF) treatments for skin tightening. Morpheus8 is a fractional RF microneedling device that combines microneedling with RF energy. This treatment delivers RF energy through tiny needles that penetrate the skin, creating micro-injuries and promoting collagen production. The combination of microneedling and RF energy allows for more precise targeting of different layers of the skin.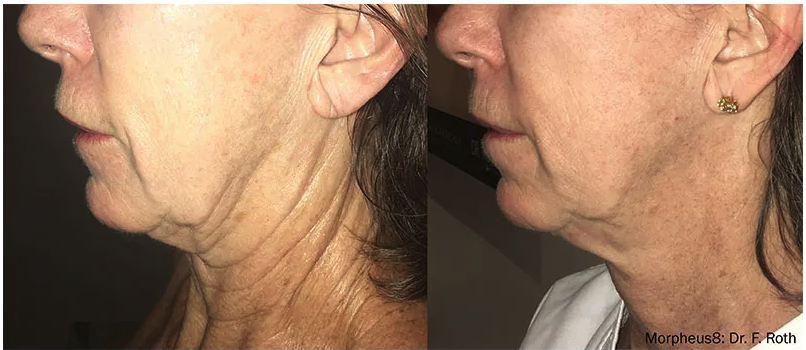 Morpheus8 is commonly used for skin tightening, smoothing out wrinkles, and improving skin texture. It can be used on various areas of the body, including the face, neck, and body. The treatment is customizable, allowing the practitioner to adjust the depth of the needles and the intensity of the RF energy based on the patient's needs and skin condition.
Inmode also owns Forma, BodyTite and FaceTite.
At Lavish Wellness & Aesthetics, we offer RF treatments with Morpheus8. Book an Appointment to get started.
3. Exilis
Exilis is a mono-polar radio frequency treatment. This treatment delivers RF energy along with ultrasound technology. Because of this, the RF energy is able to penetrate deeper into the fat layer of the skin. This provides an additional benefit of destroying micro areas of fat cells.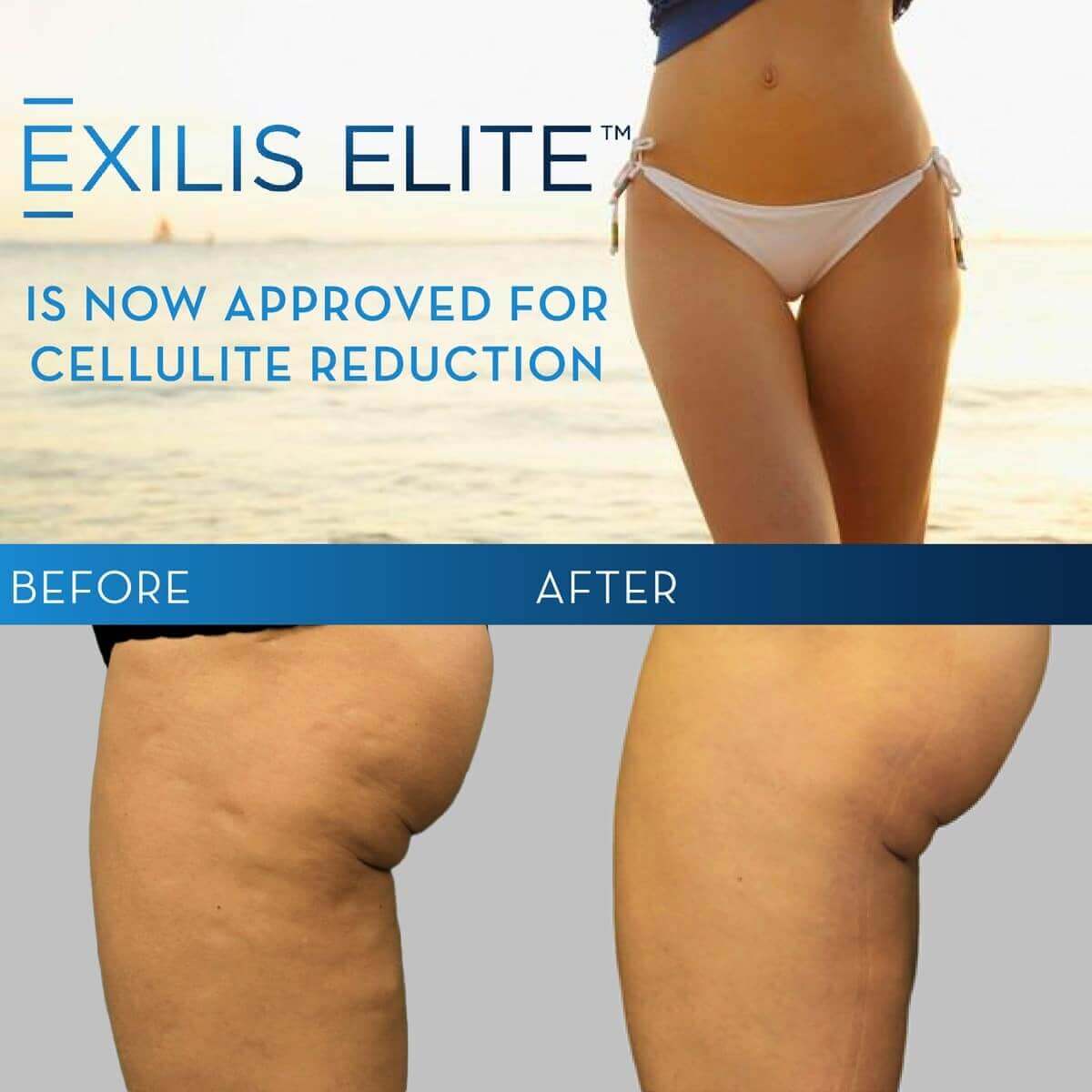 BTL Aesthetics, a world leader in skin tightening, body contouring and fat removal, first introduced BTL Exilis ELITE in February 2011 as a high-performance, non-invasive and pain-free treatment to reduce wrinkles and rejuvenate skin using ultra-precise radiofrequency technology.
4. Forma
Forma delivers RF energy using SMART RF technology which allows constant monitoring of the the temperature of your skin to ensure that it's heated to 41 to 43 degrees Celsius. This temperature is ideal to rebuild collagen and elastin, restoring tightness to your skin.
The RF energy is applied directly to your skin. Unlike Fractora and Morpheus, there's no perforation/ablation involved. A cool, clear gel is applied to your skin and the Forma handpiece is smoothed over the treatment area, delivering the RF energy. The procedure is virtually painless. All you feel is heat similar to a hot stone massage. There's also no downtime.
Forma can treat skin laxity and soften fine lines in crow's feet, the eye area, jowls, nasolabial folds, and the neck.
5.Venus Legacy
Venus Legacy is the ideal device for cellulite treatment. Legacy combines multi-polar radio frequency (RF) & pulsed electromagnetic fields with intermittent suctioning. This simultaneously shrinks fat, stimulates collagen production & improves circulation as well as lymphatic drainage.
In many Venus Legacy reviews, patients see a more well-sculpted and slimmer face and body. The treatment is ideal for those who have not seen desired results through diet and exercise. It's also popular among mothers who are striving to regain their pre-baby body. Results are often seen after one treatment.
Is radio frequency skin tightening permanent?
While RF skin tightening does not provide permanent effects, the procedure is very long lasting, as it utilizes the body's own anti-aging process to decrease skin laxity and reduce the appearance of fine lines and wrinkles. The treatment does provide long-lasting results, with effects of the treatment still seen up to two years following the procedure.
How often can you do radio frequency skin tightening?
In order to see great results, most patients only require one radio frequency skin tightening treatment per year. The effects of the treatment become fully visible over time – typically between two and four months post-treatment – as the body's natural production of collagen and elastin increases.
Is it Safe, and does it work?
Radio frequency therapy is an FDA-approved treatment for skin tightening and the elimination of fine lines and wrinkles, meaning it has been deemed safe and effective by the US Food and Drug Administration. As a part of the FDA-approval process, clinical trials are completed to test whether the treatment is safe for patients and effective. As RF energy treatments have been FDA-approved, it means they have been deemed both safe and effective
The treatment is also safe for all skin types and skin tones, though patients with darker skin tones are, in general, at a higher risk of side effects from RF and laser treatments.
At Lavish Wellness & Aesthetics, we offer RF treatments with Morpheus8. Book an Appointment to get started.
Recommended Reading: